---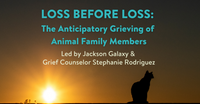 When you purchase this product, you will receive a PDF with a link and instructions to watch this webinar.
Anticipatory grief is the experience of grief before the expected loss actually happens.
Preparing for the loss of a loved one is never easy. Join Cat Camp counselors Jackson Galaxy and Stephanie Rodriguez, GCCA-C, in this virtual webinar as they navigate the emotions and experiences common to those experiencing anticipatory grief to help you prepare for the final chapter of your companion animal's life.